2019 BMW Supplier Diversity Conference Spotlight Vendor
Greenville, South Carolina, April 4, 2019 (2019 BMW Supplier Diversity Conference) – First Financial Veterans Leasing, LLC (Veterans Leasing) a leading provider of innovative equipment finance solutions for large organizations, announced today that it has been recognized by BMW Manufacturing Co., LLC, a US Automotive Manufacturer and largest exporter of Automobiles in the United States, as a Spotlight Vendor at their Annual Supplier Diversity Conference.
"We are honored to have been selected by BMW Manufacturing as a Spotlight Vendor for the 2019 BMW Conference." said David Myers, President and CEO of Veterans Leasing. "I believe this demonstrates both BMW's commitment to Supplier Diversity and to Service-Disabled Veteran-Owned Companies like ours, it also demonstrates Veterans Leasing's ability to meet the business demands of large organizations like BMW."
McKesson Recognizes Veterans Leasing AS SDVOSB of the Year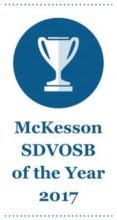 First Financial Veterans Leasing is honored to be selected by McKesson Corporation, a healthcare services and information technology company currently ranked 5th on the Fortune 500 list, as the SDVOSB (Service-Disabled Veteran-Owned Small Business) of the Year 2017.
It has been our pleasure to serve McKesson and other large organizations, and we appreciate the recognition of our ability to deliver our clients equipment financing solutions that meet their rigorous business requirements.
AT&T BGAP Certification awarded to Veterans Leasing
First Financial Veterans Leasing, LLC (Veterans Leasing) has been recognized as one of seven companies to achieve BGAP Certification from AT&T Corporation after successful completion of the highly regarded Business Growth Acceleration Program. "AT&T has continued to demonstrate their commitment to suppliers like us for nearly five decades, said Terry Plunkett, chief operating officer of Veterans Leasing. "We were honored to have been selected, and to have participated in this prestigious program over the past year, which is designed to help companies like ours to accelerate growth by becoming better aligned and positioned to support the demands of large corporations like AT&T."
About First Financial Veterans Leasing, LLC
Founded in 2008, First Financial Veterans Leasing, LLC (Veterans Leasing) is an Independent Equipment Lessor adept at helping large organizations tailor financial solutions for critical assets, that ease operational and financial challenges, with structures that are flexible, cost effective, and not subject to vendor bias or compromise. For more information, visit veteransleasing.com
MEDIA RELATIONS:
Terry Plunkett
(817) 770-0350 x 103
tplunkett@veteransleasing.com
SOURCE First Financial Veterans Leasing, LLC